Safety
Committed to Zero Injuries
As one of the larger construction contractors in Ohio, one might expect Holcomb Enterprises to have a large problem with safety in the workplace. Not so! Holcomb Enterprises is able to employ the finest of the trade's people. Good safety is good business and this message is clearly demonstrated by the fact that staff turnover is half of what is typical in the excavating industry. Seventy percent of the workforce at Holcomb Enterprises have been with the company for at least seven years.
At Holcomb Enterprises, there is one priority:
Quality, Safety, Profitability
It is with this priority that Holcomb approaches each prospective project, and maintains this priority throughout each project.
Committed to the process of obtaining Zero Injuries, Holcomb has established several Best Practices:
Management commitment
Staffing for safety
Pre-project safety planning
Safety training and education for all levels of staff
Pre-employment orientation and substance abuse testing
Corporate-wide substance abuse testing
Accident and incident reporting and investigation
Supervisory evaluations with a significant percentage weighted towards safety
Demolition Services
We proudly serve Ohio and Southern Michigan. Our purpose is to exceed your expectations by getting the job done right the first time. We are committed to providing best-in-class customer services. We also provide commercial contract work. All demolitions are completed by our qualified staff with well-maintained equipment.
Our Services Include:
Industrial Demolition
Controlled Demolition
Environmental Remediation
Site Clearing/Excavation
Total and Selective Demolition
Critical Lift and Pick
Commercial and Residential Demolition
Hazardous Materials Demolition and Removal
SWPPP Strict Compliances are met.
Certified Hazmat Cleanup
Industrial Services and Emergency Response.
Count on us for any emergency service.
We offer:
Spill Cleanup
Remediation Services
Industrial Cleanup, Maintenance and Plant Closure
Phase I, II, & III Audit
Manifested Loads
SWPPP Compliance
EPA Superfund Management
Tank Removal
Demolition
Site Work
Sitework simply put, is part of a construction project that is not part of a building or house's physical structure. This usually includes grading, excavation, construction and installation of septic tanks and filtration systems, driveways and other utilities. Other costly items that are also included in the definition of sitework and are suggested to customers by most contractors are the following:
Preparation of the structure's foundation through excavation or land clearing
Rough or initial grading
Final grading
Landscaping
Construction and paving of driveways
Addition of walkways
Preparation and approval of permits and fees
Septic and sewer systems
Well or water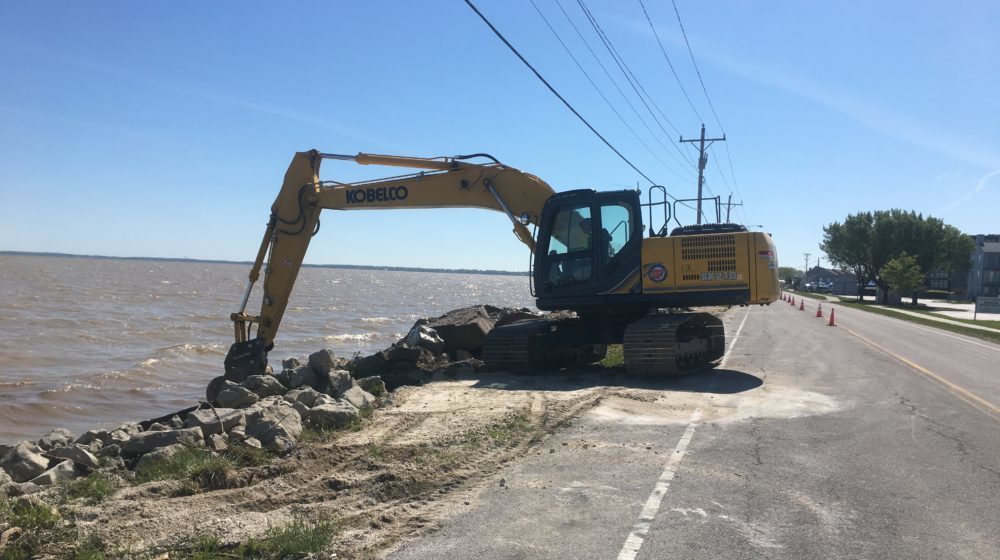 The costs incurred for sitework projects can reach up to 10% or more of the total projected construction costs. All of these, of course, depend on several factors. The price tag can vary from one county to another, depending on the surrounding area and type of property to work on.
Sweeping
Tougher regulations require better diligence on job sites. Holcomb offers several solutions with our fleet of sweepers. Whether you are looking for mechanical brooms or air sweepers, we have the machine to maintain your job site.
Dust Control
Air pollution, visibility, and safety are all concerns on a job site. Holcomb provides solutions and results through either the use of high capacity water trucks, or by application of calcium or magnesium chloride for a longer solution.